Okay, so today might sound like a paid, pre-written post…but it's not, really. This is just my own raving about this new website I just discovered that helps you save money on all of your online orders.
Who doesn't want to save a bit of cash, right??
Let me go back and start from the beginning—I'm getting a little ahead of myself here! 😛
The website is called Ebates and their logo is "Where it pays to shop online". And that pretty much sums it up. Ebates is linked to a ton of websites and if you go through them when you place an order, you will get a percentage of cash back on that order. Doesn't that sound awesome??
Each website will have a different percentage of cash back, but it roughly ranges from 5% to 10% and even some websites that have
25% or 35%
cash back! Depending on where you shop frequently, it could really be worth your while to sign up with
Ebates
and start saving!
It doesn't cost you anything to sign up, so there's nothing to loose by signing up. All you have to do is remember to sign into your Ebates account and go through them before you place an order online. And after a little bit, you'll start to see your savings climb. (Who doesn't like to save money?? 😉
Oh, I almost forgot! As a "thank you" for signing up with Ebates, they give you a $10 gift card to either Macy's, WalMart, Target, or Kohl's! Yep, when you place your order soon after signing up, they'll give you this gift card to spend however you like!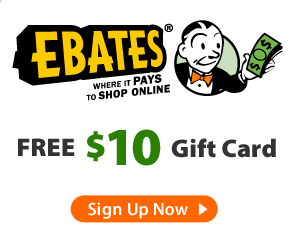 If you do decide to sign up with Ebates, I would love it if you would sign up under me (either by using my link or my using my email address [legacy1992(at)gmail.com] when they ask "who referred you"). For each person that I refer who signs up with Ebates and places an order, I get a little "thank you" gift from Ebates! 🙂 So, yeah, if you are thinking of signing up — use MY LINK!
And then enjoy your usual shopping and watch your savings grow!
If you have any other questions about Ebates, feel free to ask them in the comments below. Or if you signed up to Ebates using my link, PLEASE tell me! I'd love to give you a BIG shout-out thank you!! 😀